This month BoldHR® turns 5 years old – and I turn 50!
Can you believe it – the last 5 years have gone by in a flash and I reckon the next 5 are going to be even better.
So now that I'm old and wise (I'd like to think more latter and less former…. but older and dumber happens too!), I thought I'd reflect on the last 5 years and what I've learned about the B-Suite since working exclusively with this critical but neglected cohort.
Most B-Suite Leaders are more interested in excelling in their role than getting promoted.  Only about 20% of leaders come to me looking for a promotion – but 55% of people I work with get promoted.  The mental maturity we develop means they can be both less fearful of stepping up and less fearful of saying no if it isn't right.

All B-Suite Leaders suffer a crisis of confidence at times.  I don't believe this is exclusively a 'women's problem' – but men don't talk about it as willingly.  Female leaders are far more likely to start our coaching relationship with "my confidence has always held me back" compared to male leaders who are more likely to start with 'no problem here' – until they learn to trust me, then they tell me they have confidence issues and often feel brittle or brash too.

You don't have to be serious to get serious results.  Middle managers have a pretty serious time of it – there's little levity available when you're crushed between the opposing forces of demanding teams and even more demanding bosses.  So it's no surprise that humour and a sense of camaraderie have proven to be one of the most valued elements of the B-Suite Community – knowing that you're not alone, and that it's ok to laugh at the tough stuff really does make a difference.

We are entering a new age for middle managers.  That awful 'bureaucrat brand' is finally shifting.  How do we know? Because middle management readership is off the chart – McKinsey's recent book, BoldHR's own articles with Fast Company and others are regularly hitting the best seller / most-read list – this is new, and the focus is so, so welcome if it means B-Suite leaders will finally get the support they need.

B-Suite leaders still have some way to go to have conviction that they can exert influence beyond their scope, can control the pace of work and not be controlled by it, and are able to rise above the chaos.  We're working pretty hard on it over here.
Join the Community here
The B-Suite Community is growing!  In less than 3 months, we have grown to 177 members – and I'd love you to help us expand this to 200 by our birthday!
If you're not yet a member, simply

click on this link

to set up a free account and join in the conversation, free resources and events.

If you're already a member, I'd love you to refer other leaders that you think would get value from the Community – simply click on the first of these icons (the plus person one!), found on the top right of your B-Suite Leaders page.

_____________________________________________________________________________________________________________________________________________________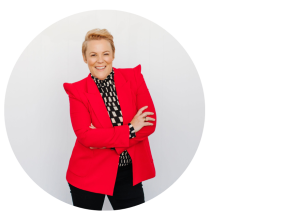 Rebecca is Australia's pre-eminent advocate for B-suite leadership – the expert in developing hi-impact B-Suite leadership at both a team and individual level.
Speak to Rebecca about:
Individual and group coaching
Team effectiveness and training
People & Culture Advisory
You can reach her on rebecca@boldhr.com